8 Ideas For Quick Exterior Home Makeover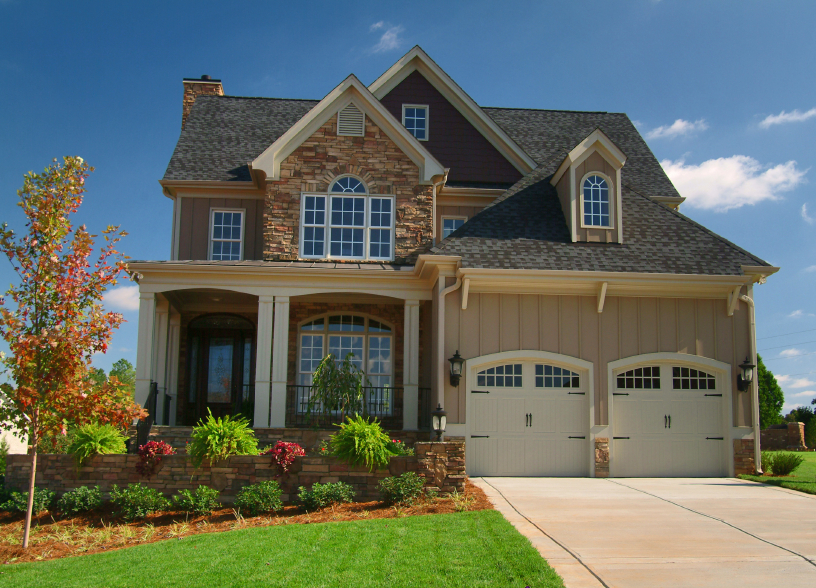 You're tired of looking at that drab old home, and every time you pull into your driveway, you notice one of your neighbors shaking their heads as they walk by your home, disgusted at what they see.
Here, we are going to share some exterior home makeover ideas that will make people look twice.
Clean The Outer Area
If the exterior of your home isn't maintained or taken care of very well, it wouldn't be a bad idea to simply clean the exterior of the home and clean up your front yard.
Simply cleaning up an overgrown area and doing a little tree trimming can make a big difference in the exterior of your home.
Paint Exterior Walls
Have you ever thought about painting the outside of your home with some different colors that might make people in your neighborhood a little jealous?
It's hard to imagine, but by painting your home with designer home colors, can make the biggest difference of anything that we could tell you, if you truly want to do an exterior home makeover that will truly make people look twice and appreciate, painting your house with some excellent colors, can make all the difference in the world.
Thoroughly Observe Yard And Driveway
In restoring an existing front yard, assessment of the problem areas is always the first step. Use your camera to get a better perspective on this.
Take a few pictures of the landscaping and entryway from different angles. From this, you should see a whole different picture of what your yard looks like.
Make a note of it and what you want to change. Make a note of things like chipped and cracked concrete, overgrown weeds, dead lawn, dead plants, etc.
Does your front entryway look tired and neglected? Look at all the details. If you observe cracks and potholes in your driveway then you should hire road profiling service providers. Professionals will help you to restore the condition of your driveway.
Plant Fresh Flower And Shrubs
Remove any dead or unwanted shrubs. You can always replace them with the same or similar types. However, for a fresher look in new and old landscapes, try using other interesting textures like ornamental grasses in place of shrubs and hedges.
Not only do they provide a new texture and shape, but they also add motion and winter interest to the landscaping. Use them in the same spots as singular or groups.
Prune trees and tall, healthy shrubs to restore their beauty. Often unnoticed, these are allowed to grow unchecked and make the yard look uncared for.
Invest In Colorful Pots
Add a little color, interest, and a whole new dimension by placing some large planting containers and pots on the sides of your front steps or either side of your walkway.
Fill these with a combination of trailing vines, ornamental grasses, and colorful flowers. This will brighten your entryway as well as make it look more inviting and welcoming.
Planters are also great for using plants from different climates and seasons and being able to move them inside for the Winter.
Edging Driveways And Walkways
Edging any walkways, driveways, and sidewalks will do wonders for making the entire yard look sharp and clean. For now, you don't even need to fill everything with plants.
A layer of protective mulch along the edges instead of flowers or shrubs can look great. Make sure that any existing sidewalks, driveways, and steps are clean and in good shape.
These areas are totally visible, so fix any stains or cracks. Severely cracked concrete, brick, or stone sidewalks should either be repaired to good shape or replaced.
Build A Fence
Fences can add depth to your home's exterior. A nice fence doesn't only create a clear boundary between the busy street and your beautiful private space; it can also make your yard look larger.
Upgrade Your Porch
If you have a front porch with benches or chairs, consider buying new cushions or throw pillows to make it more inviting and warm.
You can incorporate simple decor like new house numbers, new door hardware, or fresh paint on the mailbox. You should also see if your porch floor needs a new finish.
Brief Summary
A simple front yard overhaul to restore curb appeal can often be as much of a challenge as designing and building an entirely new landscape.
It's like a "not being able to see the forest through the trees" kind of a thing. One thing that's helpful with this is to be clear from the very beginning about your budget and whether this is a simple clean up, a partial landscape, or an entirely new front yard landscape.
However, even if you don't want to do a full-scale landscape, the result is still a matter of following the same principles of designing a new front yard.
Entryways, access, and parking areas should already be designated in an existing landscape. If not, design them in if they are a necessary addition. Implement the above-mentioned steps for quick exterior house makeover.